Herdsmen behead farmer in Iseyin
Agbekoyas would declare war on herdsmen if… An elderly farmer was on Saturday beheaded by herdsmen in his farm at Iseyin, Oyo State.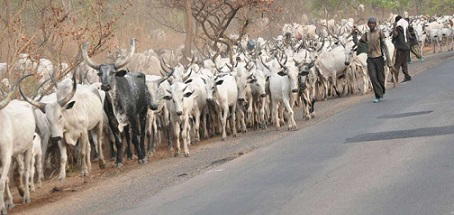 Cows
 His son, who was with him in the farm, was also said to have been injured by the herdsmen who also destroyed crops in the farm.


President-General of Agbekoyas Worldwide, Kamoru Okiki Aremu, who disclosed this to Vanguard Sunday night, said the deceased, identified as Mustapha, alias Bebe Jeje, was a gentleman who was very popular at Iseyin.
He said unless the federal government and Governor Abiola Ajimobi immediately arrest and prosecute the culprits, the Agbekoyas would declare war on herdsmen all over Oyo State.
"We are grieving. These herdsmen went to Baba Jeje's farm, beheaded him and also injured his son who was with him.
"We have had enough of these herdsmen; we are Agbekoyas and we don't look for trouble.
But for this that had just happened, we have sent all our members to comb the bushes for any herdsmen and deal decisively with them.
"If the federal government and Governor Ajimobi fail to bring these people to justice, we are going to handle them in our own way.
We are not afraid of anybody," Aremu told Vanguard last night. He said Baba Jeje had since been buried according to Islamic injunctions.